Product Spotlight: ReVite® Super B and Vitamin D
Food should always come first when looking for ways to optimize a healthy diet, but that can be easier said than done – especially for those who have specific dietary preferences or picky taste buds.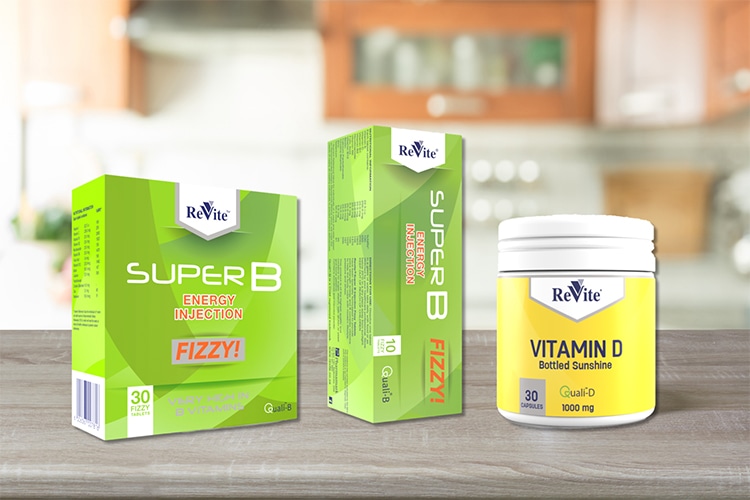 The ReVite® brand from South African-based Pharmamark delivers high-quality vitamins to consumers who want to supplement their diet responsibly. ReVite®'s Super B Fizzy effervescents and its vitamin D capsules give the body supplemental nutrients to support overall wellness. The B complex vitamins (there are eight) support the body's own processes to convert the food we eat into energy. Vitamin D, commonly referred to as the sunshine vitamin, comprises a group of fat-soluble compounds that are essential for maintaining the mineral balance in the body.
ReVite®'s Super B Fizzy is a citrus-flavored effervescent that quickly and easily dissolves in water, and it's free of sugar, starch, salt, gluten and yeast.
ReVite®'s Super B Fizzy and vitamin D supplements proudly carry the Quali®-B and Quali®-D logos, meaning that the vitamins that make up these products are sustainably sourced, traceable, come from reliable sources and are of the highest quality.
Visit the ReVite® website and follow the brand on Facebook to learn more about its products containing Quali® vitamins.

DSM's solar field produces approximately 30-40 percent of the Belvidere facility's electricity needs at peak production and offsets CO2 emissions from the grid by more than 4,563 metric tons annually. To build a solar field of this scale, trees were removed. DSM replanted these trees to other locations throughout the facility's grounds, further reducing its environmental footprint.

Look for the Quality for Life™ seal to know the nutritional ingredients in a product are of the highest quality and are sustainably sourced.